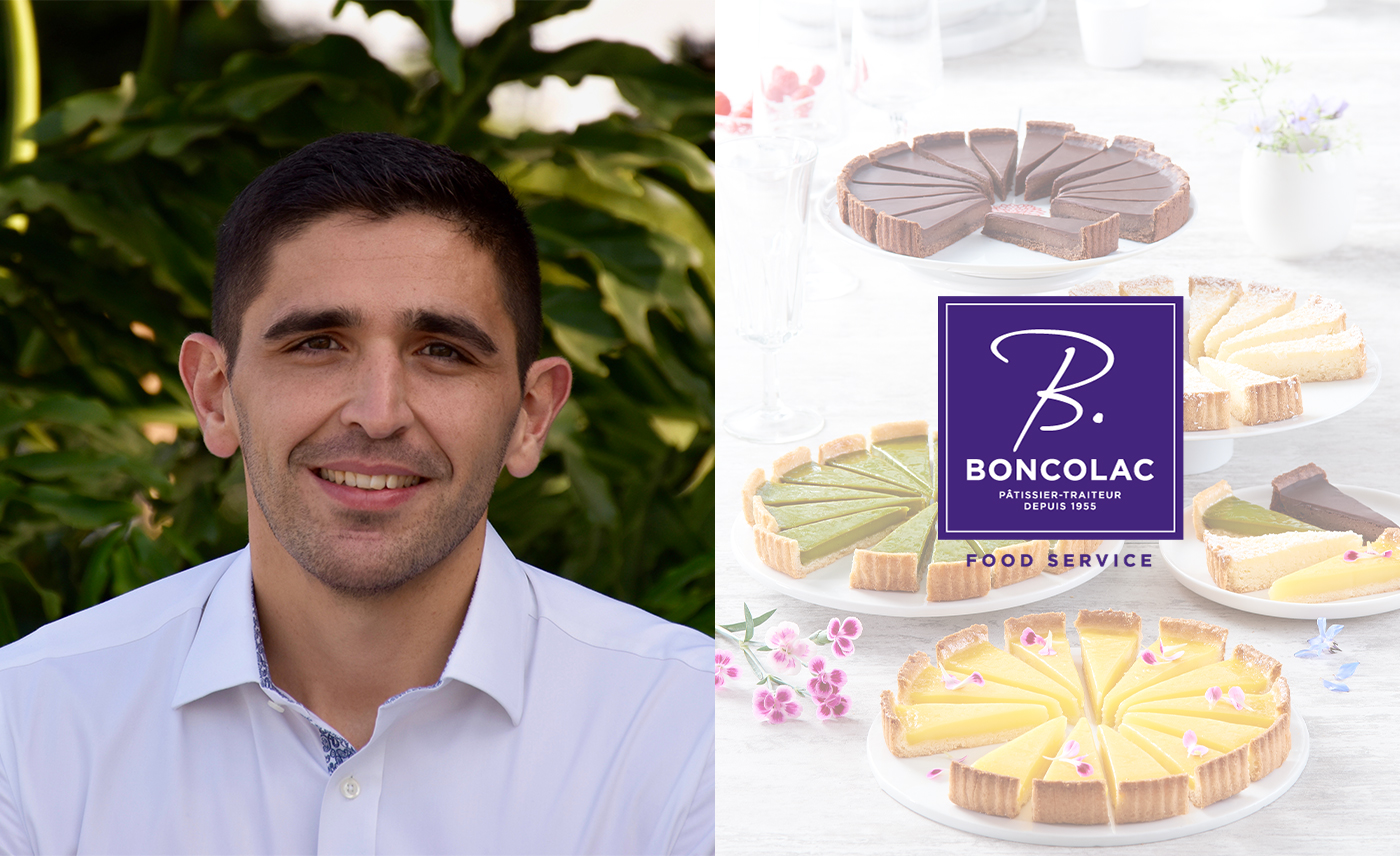 [Meet with] Christophe Castellino – Asia Area Manager, at Boncolac
Founded in 1955, Boncolac has built a strong know-how in frozen French Pastry, specializing in French tarts and Catering products. Committed to deliver the highest quality to the Chefs they work with, they stand out thanks to high-quality ingredients, signature short crust bases, hand-placed fruits and clean recipes more broadly. Since 2017, FB Solution is their exclusive distributor in Mainland China and more recently in Taiwan.

Today we are interviewing Christophe Castellino, who has been working for Boncolac for 7 years now, including 5 years in Hong Kong. In charge of Asia and developing sales across a growing number of markets here, he has witnessed the evolution of these fast-changing markets, and particularly in Greater China.
1.  Christophe, you were here at the beginnings of Boncolac in Asia. Tell us more about yourself. What is your background?
Coming from a family of wine-makers in the south of France, I grew up in the F&B sector and knew that I wanted to work in that area. While I was graduating from my business school in Toulouse, I had the opportunity to do my end-term internship in Boncolac, where I discovered everything about frozen desserts & appetizers. I quickly connected with the high-quality philosophy and the values of the company. After my graduation I worked for a while at the headquarters until I got the opportunity to move to Hong Kong to develop the business in Asia, where Boncolac was starting operations. Of course, I immediately on boarded in this new adventure. 5 years later, I can tell it's a thrill to see our brand growing up and see our distribution network being extended to more and more countries.
2.  What inspired you to join Boncolac?
I think that what inspired me the most in joining Boncolac is the fact the company places quality and authenticity at the core of its process. Indeed, we may produce our desserts at an industrial scale; many operations are still handmade and follow the traditional artisanal French know-how. Our Chefs and R&D teams are driven by quality and committed to source natural and, as much as possible, local ingredients. I think it's important to be passionate and inspired by the products you sell.
I also liked their international aspirations. Working for Boncolac here in Asia is for me like sharing a small "slice of France"; sharing the French Patisserie know-how. Our products or all made in France, following French tradition; it's always very satisfying to introduce our products and explain the stories behind.
Going overseas also brings many challenges that make our job exciting. We always need to question ourselves and understand local markets and their trends. Nothing is settled in advance !
3.  China is a fast-changing market, what is your perception of it and its more recent evolution?
The past 5 years were definitely very instructive. I came all the way from France with a certain idea of what end consumers were looking for. But it actually shifted very fast and our understanding just had to evolve with it.
A clear trend I noticed over the years is the quest of quality in food products. Many of our F&B clients contact us for authentic, reliable & qualitative products because their customers are more and more demanding. There is now a better awareness – in Asia but also worldwide – regarding the quality of the ingredients and how harmful some additives can be, thus shifting customer's habits.
One point that has not changed over the years though is how fast trends come and go on the Chinese market. That makes of it a very dynamic and interesting market, with a lot of opportunities. It however also brings a lot challenges; it's always more difficult to fulfil a fast changing demand.
4.  How does Boncolac answer the needs of Asian F&B professionals?
If you want to succeed in China, one of the key factors is the reactivity. As the market evolves fast, you must remain attentive and adaptable. On one hand, we are strongly attached to our French origins and want to preserve our traditional know-how & recipes. On the other hand, pastry has always been evolving and we do believe that traditional recipes can always be twisted with some delightful local flavours! Thus, few years ago, we developed our first "fusion" dessert, the Matcha Green Tea tart, with the idea to suit as much as possible local preferences. Since then, many new local flavours enlarged our range.
We also bring technical support, in collaboration with Chefs in China. We closely work with them to identify their needs and provide them solutions to facilitate their daily operation.
5.  Of all Boncolac tarts, which one if your own favorite?
Difficult question! I will say THE classic: our Lemon tart "Grand Arôme". It's a timeless dessert and upon the occasion you can easily customize it with elegant or fun toppings!
---
---